Apartment Bond Program
Reduce risk, get more tenants, increase profitability
Give your tenants an alternative deposit option to lower move-in costs while eliminating the need for your administrators to handle traditional security deposits. Tenants pay a one-time premium for a bond amount that is equal to the security deposit amount. Our financial technology supports the online processing of the bond premiums, the total funding amount, payments, and collections.
Get More Tenants, Lower Move-In Costs
Get the same protection as traditional security deposits
Quick and easy online process for tenants
Customized marketing material per apartment
No Minimums on the number of apartments required to launch the program
UFCIC administers the entire process without an agency allowing you to have a higher funding percentage and controllable premium rates per apartment.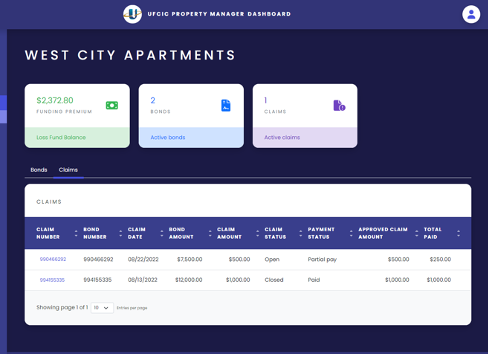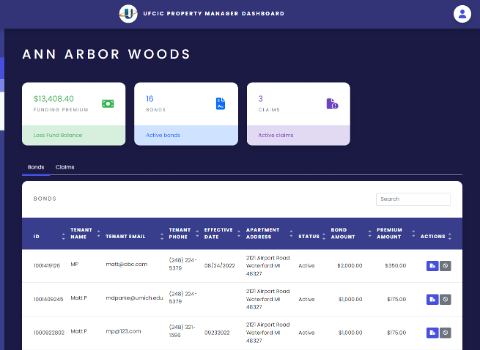 Frequently Asked Questions
What is an Apartment Surety Bond?
admin
2022-06-20T17:56:40+00:00
These financial agreements are used in place of traditional security deposits. The Principal (you) pays the Surety (Insurance Company) a small premium to get access to the insurance company's creditworthiness up to the Bond Amount (Security Deposit). This bond guarantees the Obligee (Property Company) that it will not suffer financial loss due to your negligent behavior such as damaging an apartment beyond normal wear and tear or not paying rent.
More Information on this service
Universal Fire & Casualty Insurance Company (UFCIC)
UFCIC has partnered with property complexes to provide a more practical solution for security deposits. Through conversations with property managers and tenants, the Apartment Surety Bond Program has become the favored solution to get tenants into the apartment they want with the protection the property complex requires. No longer will you be required to deposit thousands of dollars, held for the length of your tenancy, in order to get into the apartment you desire.
Universal Fire & Casualty Insurance Company (NAIC No.32867) has been providing surety bonds for over 20 years across the majority of the United States. UFCIC is AM Best "A-"rated, Treasury Listed, and rated "A Exceptional" by Demotech. We have offices located in Waterford, MI and Dublin, OH.  You can speak to a representative by calling 616-662-3900 during normal business hours.